Sensor against poor indoor air and unhealthy houses
Install the BIO air quality sensor to improve ventilation and airing of VOCs/CO2 (volatile
organic substances).
The Kyoto Protocol stresses the importance of reducing emissions of greenhouse gases CO2 and methane to bring about better climate control.
The BIO is a simple VOC/CO2 sensor based on the latest bio-semiconductor technology.
The BIO has been designed to be used in ventilation systems where there is a need to remove odours in order to improve air quality.
By means of measurement you can provide fresh air and optimize ventilation.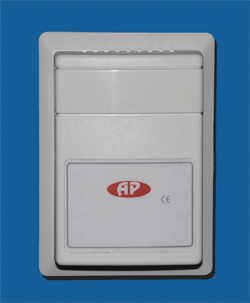 BIO sensor
| | | | |
| --- | --- | --- | --- |
| VOC | | | |
| | | | |
| Gas specif. | Manual | Datasheet | Tests based on experience |
The BIO-sensor measures the concentration of different odours and gases such as tobacco smoke, body odours, smell of frying, carbon monoxide, methane, ethanol, acetone, methanol, etc. in different locations.
This multipurpose sensor for indoor use, offering a solution in a variety of applications such as restaurants, pubs, kitchens, toilets, recreation rooms, dressing rooms, smoking rooms and demand controlled ventilation.
The BIO-sensor therefore senses the gases and odours that humans perceive as unpleasant.
This provides a valuable addition to the comfort of office buildings in addition to the achieved energy savings.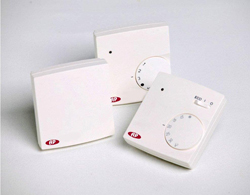 CBIO - air quality controller with setpoint
The sensor is pre-calibrated for easy installation.
As a result, the normal installation measures are simplified, and there is no need for further calibration by a qualified technician.
The BIO-sensor enables more effective optimization of the ventilation system and can thus reduce the heating and operating costs.
Features:
Gas detection range from 450 to 4000ppm or 450 - 2000 ppm with optional temperature sensing from 0 to 30 °C.

0 to 10VDC analogue output, RS 485 (Modbus) for DDC/PLC or damper actuator.

Automatic calibration function with built-in self-diagnostics.
More about the BIO sensorīs features and energy saving possibilities
Air Quality Sensors are designed for use in the building for ventilation purposes.

The sensors are sensitive to a range of odours, smoke, solvent gases etc., and provide an output proportional to the mixed gas concentration.

This signal can be used to control fresh air fans and dampers according to the ventilation load.

In installations where the primary contaminant load is human respiration, it is recommended that a CO2 sensor is used.

Features
Detects particulates as well as gases

Duct and space versions

Clean, simple installation

Long -lasting, accurate sensors

Simple BMS-integration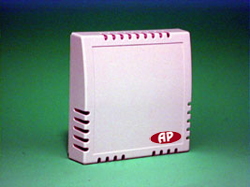 SRQ