Space Light Level Sensor
The Space Light Level Sensor LRT 010 is an accurate lux calibrated light level transmitter which can be used for monitoring and control
applications of artificial lighting, both to optimise light levels and to achieve maximum effenciency.

The enclosure is flame retardant polycarbonate and can be flat wall or corner mounted.

The signal output is 0-10Vdc output and the lux range is 10-2000 lux.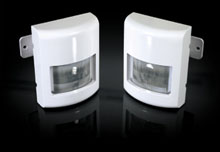 Internal - LRT 010
Outside Light Level Detector
The Outside Light Level Detector LOT 010 is an accurate lux calibrated light level sensor which can be used for monitoring and control applications.

The enclosure is IP65 rated complete with M20 cable gland making it ideal for external use.

The signal output is 0-10Vdc and the lux range is selectable at installation from the following: 0 to 2000, 0 to 4000, 0 to 10000 or 0 to 20000 lux.

The fifth switch which allows the response time of the unit to be slowed down if required.

Features:



Outdoor LOT 010