"The best and most cost effective device for controlling lighting and reducing wastage of energy from its unnecessary and inappropriate use is the light switch....

....but people just donít use them."

AP Automatic Lighting controls ensure that lighting is only on if an area is occupied and the ambient light level is too low for normal use.

They not only conserve energy but in doing so pay for themselves within 1 to 5 years (on average only 2).

Reductions of up to 70% of lighting costs can be achieved by using our products compared to ordinary light switches.

In new buildings it is actually cost effective to use automatic controls instead of fitting switches.

Conservation which saves money and makes sense.

Light and climate as and when required
Energy-saving reliability - round-the-clock

The Light Level Sensors contribute to minimising energy costs for lighting, shading, heating, and cooling.

The spectrum of proven applications reaches from contrast lighting control depending on the incidence of daylight through motion-depending control of room functions up to presence detection in safety zones and security areas.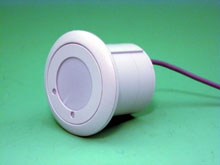 Both sensor series are featuring measuring, detection and temperature ranges that satisfy the needs of the application.
The patented design of the enclosure ensures the devicesí ergonomic operability and in combination with other sensors and controllers by AP, it develops a self-contained appearance.

Versions fitting in with prevailing panel switch programmes are also available upon request.

Fields of application
Heating, ventilation and air conditioning, lighting technology

Shadowing and sunshade

Access control, safety zones and security areas

Production facilities and offices in line with occupational health and safety ordinance

Greenhouses, parking lots, corridors, and courtyards