Average IP65
The TAF is designed for direct mounting to sheet metal for average duct temperature sensing.

The sensor is multipoint sensitive through the length of the temperature conductive tubing.

The sensor modules are environmentally sealed in rod material, copper, corrosion free plastic-coated with spring for buckling protection.

Installation by mounting clips of brass.

Available in standard length 0,4, 3 or 6 metre (rated lengths up to max 20m optional).

The elements are configured in a series/
parallel method, which creates an end result of total average resistance, equal to the same span as a standard sensing element, with temperature range of -30/+80° C for the passive output TAF.

Active output 0-10Vdc or 4-20mA (loop-powered) available with or without LCD display readout of local temperature

The TAF provides a reliable solution for measuring average supply air temperature in larges ducts and plenums.

The TAF is an ideal product for high air flow systems.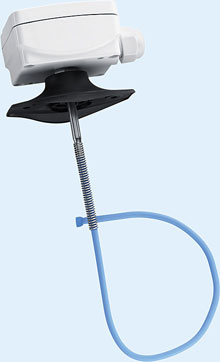 Average
These direct output, Temperature Sensors TAS and UAT are used for measuring temperature in ducts where an average reading across the air flow is required.

Units contain either high quality thermistor, nickel or platinum sensing elements which are housed in an 8mm diameter 'Nylon 12' tube, spaced at 0.5m intervals along the standard 2.2m length.

Selectable outputs 0-10Vdc or 4-20mA of Active Duct Avering Transmitter UAT.