Fläkt Woods Tekniklaboratorium chooses precision pressure sensors
To ensure precise measurement results in the development of chilled beams, air handling units etc. pressure sensors are mounted with an accuracy of 0.25% at full scale. The accuracy used is necessary for perfect control of air pressure and air flow..

The company has during several years built up an extensive knowledge base and experience in different systems solutions areas.
The group has a turnover of 5.8 billion SEK and has approximately 3300 employees in 75 countries.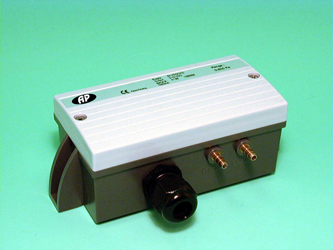 Fläkt Woods´ largest production unit is located in Jönköping, and employs approximately 600 people with products sold worldwide.

PATX pressure transmitter that senses static, over, under or differential pressure and converts that pressure into a proportional electrical signal.

The pressure transmitter isused for building automation, process control, filter monitoring, frequency converters, laboratories, "dragskåpsreglering", etc., or for readings on "mätvärdesinsamlingscentraler "or printers.

PATX series comes with a 0-10Vdc output voltage, 4-20mA current output and LON-version.
PATX is an independent unit and is available with an LCD display for digital readout.

PATX series is IP 65 grade to be able to withstand environmental impact and suitable for outdoor installation.

PATX pressure transmitter are available for air pressure in 9 different areas as low as 0-25 Pa full scale of 0-5000 Pa full scale.
The accuracy is the standard ± 1% full scale at normal temperature environments, 0.25% or 0.4% accuracy as a supplement.
The units are are temperature compensasted to less than ± 0.06% FS / in the area of ± 0 to 65temperature.

PATX series uses an enclosed micro-sensor of stainless steel.
The energized stainless steel membrane and the insulated stainless steel electrode, which is located adjacent to the membrane, forms a variable capacitance.

Positive pressure moves against the membrane electrode, which increases the capacitance.

A pressure reduction moves the membrane away from the electrode, which reduces the capacitance.

The changes in capacitance are measured and converted into a linear electrical signal through a unique electronic circuit.

The sensor is enclosed in a stainless steel enclosure.

The sensor handles up to 6.8kPa gauge (both connections) without any damage to the device.

The parts that build up the sensor is thermally adapted which gives improved temperature performance and excellent long-term stability.